6 Solutions to Organize Your Apartment Bathroom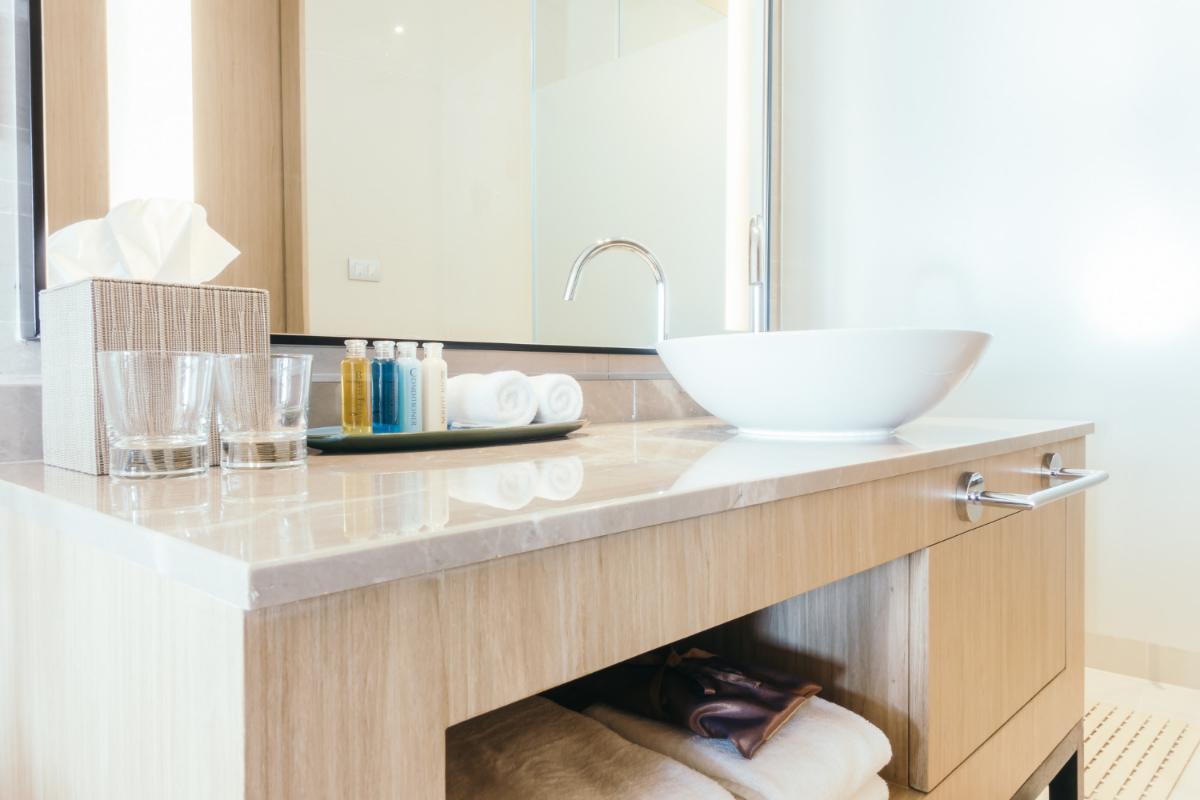 Are you having trouble finding everything you need to get ready in the morning? Do you struggle to share your bathroom with your roommates? Whether you live alone or share your space with roommates, you may still be wondering how to create a more organized bathroom in your apartment. At our apartments in Jacksonville, FL, you can enjoy the spacious accommodations that make everyday life much more enjoyable, even in the bathroom. As you get ready in the morning, you will want a functional space that is organized and tidy. These are a few ways that you can organize your apartment bathroom.
Get Drawer Organizers
Keeping toiletries, makeup, and other essentials in your bathroom drawers can lead to a cluttered mess. Getting some drawer organizers can make your morning much simpler, as you can find your deodorant and toothpaste easily without rifling through layers of your stuff. These drawer organizers are inexpensive and can often be found at many dollar stores.
Invest in Under-the-Sink Storage
If you keep many of your additional items under your bathroom sink, you want to implement storage solutions that prevent things from getting cluttered under there. Consider getting shelves that fit under your sink, or use basket storage to organize items like extra toilet paper and bathroom cleaning products.
Add Wall Hooks
Hanging your towel after you get out of the shower is much easier when you hang hooks along the wall. Most apartments will have towel rods, but some may not. Command hooks are easy to install and can add functionality to your bathroom in just a few minutes.
Install Shelves over the Toilet
When you want to add storage to your small bathroom, consider hanging shelves above your toilet. You can then use these shelves to put extra towels, washcloths, and bath products that you use each day. Some stores sell shelves that stand freely over the toilet so that you do not need to do any hanging.
Get Some Baskets
Basket storage is a great way to organize your bathroom products in a cute and functional way. These baskets can also double as decorative items, as they will add a natural touch to the bathroom space. Consider rolling towels or keeping lotions inside baskets to make it easy to grab what you need quickly each morning.
Hang a Door Organizer
Do not forget to take advantage of the space behind the door. When you are looking for an inexpensive way to hang your towels, robes, or clean clothes, you should invest in an over-the-door organizer. These often include many hooks so that you can hang multiple belongings at once without worrying about hanging anything on the walls.
These are a few simple ways to create a more efficient and organized bathroom in your apartment. Maximizing bathroom space can be easy with the right solutions and space to make it your own. If you want to find the perfect apartments in Jacksonville, FL, check out The Lofts at Wildlight. Contact us to schedule a tour of our apartments today.