How to Suspend a Hammock Inside Your Apartment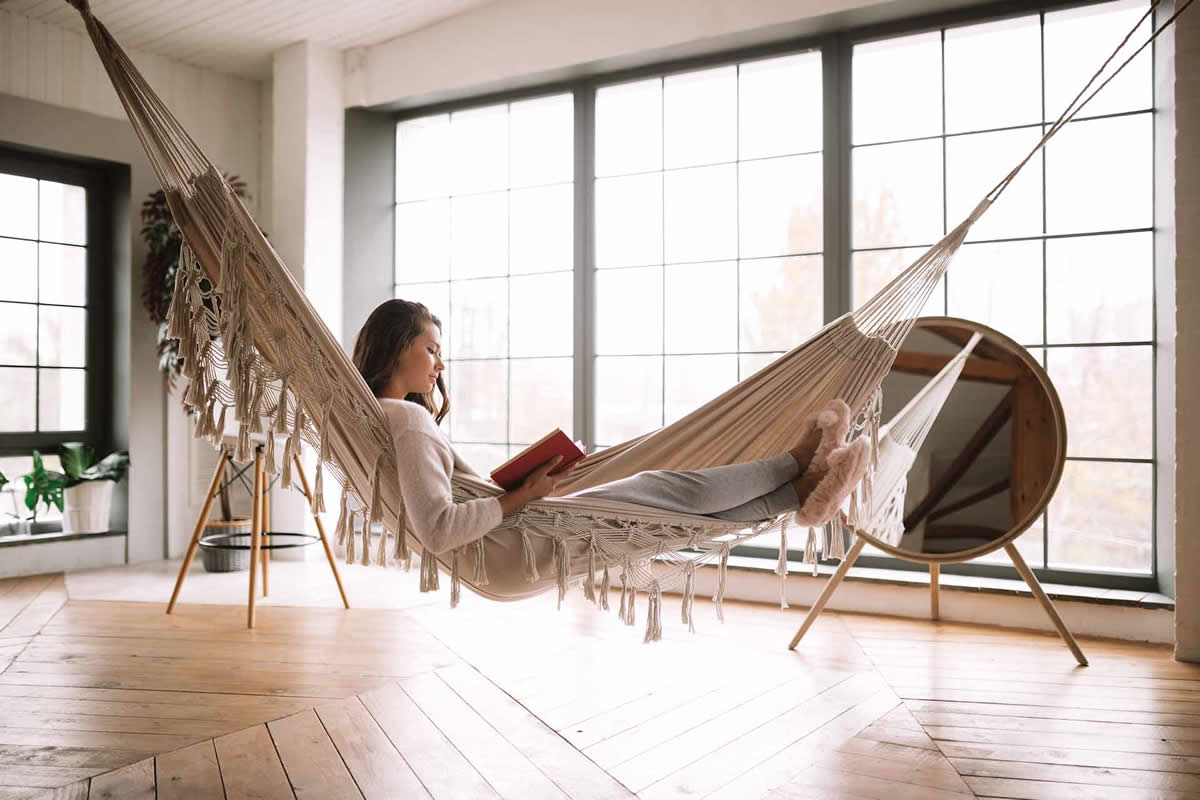 Indoor hammocks go back nearly 1,000 years. Used indoors and out, they helped keep insects and rodents away while guaranteeing people weren't resting on unclean floors.
Today, hammocks signify relaxation. You hear the name and visualize some stunning beach oasis with a hammock connected to two palm trees swinging in the breeze. That works, but they're also still excellent inside. Hammocks are modern, space-saving, and inexpensive. You can even trade a traditional bed for one. But, according to experts from our apartments in Yulee, FL, suspending a hammock indoors isn't always as easy as you'd assume.
Whether you connect it to your ceiling or walls, purchase a stand, or get a little creative, here's everything you need to learn about putting an indoor hammock in your apartment.
Hammocks vs. beds
When negotiating limited space in an apartment, including an alternative to a big bed might be beneficial. Another advantage of hanging a hammock inside is that you don't need to purchase a bed frame, mattress, sheet set, or decorative pillows (if you're into that.) Hammocks are a more low-key method of sleeping, but they also provide some health benefits.
Hammocks can assist you in falling asleep faster and provide you with a better night's rest. In addition, they can help eradicate tossing and turning, but you must install them correctly to evade back pain.
How to suspend a hammock indoors
The first thing to determine is what kind of hammock you can have in your apartment. Depending on the terms of your lease, you may have specific limitations to work around. For example, if putting holes in your wall is a no-no, shy away from hammock wall mounts or ceiling hammocks. Look into freestanding options instead.
Hang the hammock from the wall
If your lease lets you put holes in your wall, then a hammock wall mount is probably the route for you. Safety should be the most important piece to hanging your hammock, so check and recheck as you follow hammock installation measures. You can locate great how-to videos on Youtube for specific instructions.
Hanging the hammock from your ceiling
A ceiling hammock is another prospect for those tenants who can place holes in their apartment walls. The procedure is identical to attaching a hammock to the wall.
Hole-less hammock hanging
There's an alternative if you cannot drill holes into apartment walls for a hammock wall mount. Many indoor hammocks utilize a floor stand to hold them. However, if you're searching for a minimalist approach to your décor, the floor stand might not help. While smaller than a bed, hammock stands take up considerable space that a hung hammock would not. Though they range, a hammock stand is approximately four feet wide and between five to 15 feet long on average.
Is it safe to suspend a hammock indoors?
No matter which kind of hammock you decide is suitable for your apartment, proper installation is critical. A hammock is safe to hang inside when done correctly, so ensure you're correctly anchoring it to studs within the walls.
Test the poundage of your hammock before you get in to bypass injury and make adjustments so you're entirely comfortable. Follow all the proper steps when hanging a hammock indoors, and you'll have a spot to sleep that's periodically even more relaxing and comfortable than a conventional bed.
We hope this helps you with suspending a hammock in your apartment. Contact us today if you need apartments in Yulee, FL. We want to help you find your next home.